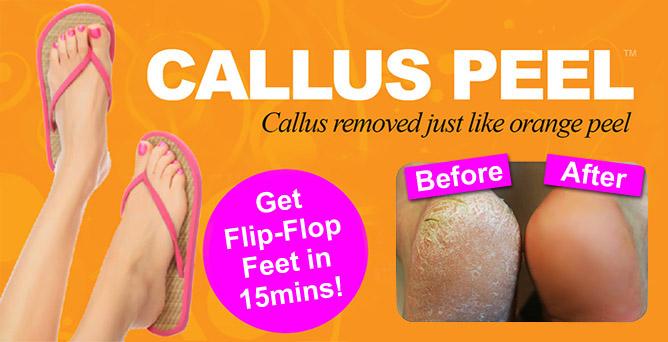 Don't just dream about pretty feet…………
A Callus Peel treatment will leave your feet feeling soft and rejuvenated. The Callus Peel is applied to the problem areas, allowing the hard skin & calluses to simply peel away like orange peel!

A busy and active lifestyle can lead to a build up of hard skin and calluses on the foot, making this part of the body uncomfortable and unsightly. Callus Peel is a 4-step treatment for dry skin, callus and cracked heels.
This is a four step system that gives results that you can see right away. The whole treatment will take no longer than 30 minutes and then you will see the amazing difference a Callus Peel treatment can make.
Callus Peel is safe, hygienic and painless. Each patch is wrapped individually & contains only natural products. The scraper to remove the calluses is made from plastic so there is no cutting of the skin & gloves are worn throughout the procedure.
Achieve flip-flop ready feet in no time -You will love it!
Callus Peel £20
*If the calluses are very extreme you may need a second treatment in a fortnight's time or even a course of 3 treatments.
**Please note this treatment cannot be undertaken if feet are cracked and bleeding, or if you have any infectious ailments e.g. athletes foot. Additionally, pregnant and diabetic clients are not able to have this treatment without express written permission from their GP.