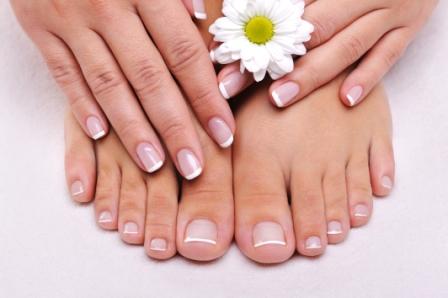 As well as leaving you looking and feeling great, manicures are benificial for:
Massaging your nails, cuticles and the skin on your hands, encouraging the renewal of important skin cells and aiding nail growth leaving nails longer and stronger;
Cuticles take care of the cells of your nails, so looking after them is essential for healthy nails;
Nail polishes can act as nail protection. At Glam R Us there are a range of nail polishes including the classic french manicure.
Manicures look great for every day wear as well as for that special occasion!
How often should I have a manicure?
Having a regular manicure ensures that your hands and nails are in excellent condition. Generally once or twice a monthly to ensure nails remain shaped, to prevent snagging and to keep cuticles neat.
Manicure £20
Why a pedicure? Because according to Foot Care Direct (http://www.footcaredirect.com) during a typical day, feet endure a cumulative force of several hundred tons and because healthy feet are vital to overall health. The average person walks approximately four miles every day or 115,000 miles in a lifetime.
So pedicures can be a good way to help keep your feet healthy, looking and feeling good. And while the rest of may not feel good just because your feet do, the rest of your body won't feel good if your feet don't. A pedicure cleans feet, provides nail care and foot massages. A good pedicure can be very relaxing and if you have foot problems it can be very therapeutic.
Now, get ready for summer and treat yourself to a pedicure and start taking care of your feet today!
Pedicure £20